RIDE OF SMILES - THE PROJECT
Update September 30th 2016


The Ride-of-Smiles made it back to the safe haven in Germany after 56.000 GS-Kilometers - and now comes back from celebrating with 60 supporting friends and family from the Ride-of-Smiles-Party at 1550 m altitud in the Bavarian Alps.
Friends joining us from Ucraine to Switzerland. From Berlin to Hamburg , from east to west and north to south in Germany. What a venue, what a crowd, what a band .

And best of all we even bring back more donations from the mountains - including 915 € from our friend Joergs incredible MZ-Adventure all over the roads of Germany and 1500 € all together.



 THANK YOU ALL FOR INCREDIBLE 49157 € OF DONATIONS UP TO NOW !
There ain´t no THANK YOU big enough for everybody who suppported and helped along all the tough riding times out on the road.

It was your support and your smiles who kept the charityproject going when times got rough.
And it was my pleasure  now to bring that smile all back to you - and to celebrate what we have achieved all together - as much as sharing  some of  all the intense and quite often extreme experiences between snow, bushfires, deserts and hurricanes from Canada to the Australian outback - at least with those of you I could invite  to the Ride-of-Smiles-Party from the 23- 25 th of September.


Eeverybody who helped along - even if you could not be with us for long distance travelling or simply time reasons. You were with us for all you did to help others !!


It was an incredibly intense experience to have shared all this with you and the world - far away from only being easy - but intense and magic at all times




Thank you all to those who know they deserve it  from the bottom of my heart

BABA

Be the change, you want to see in this world 

Mahatma Gandhi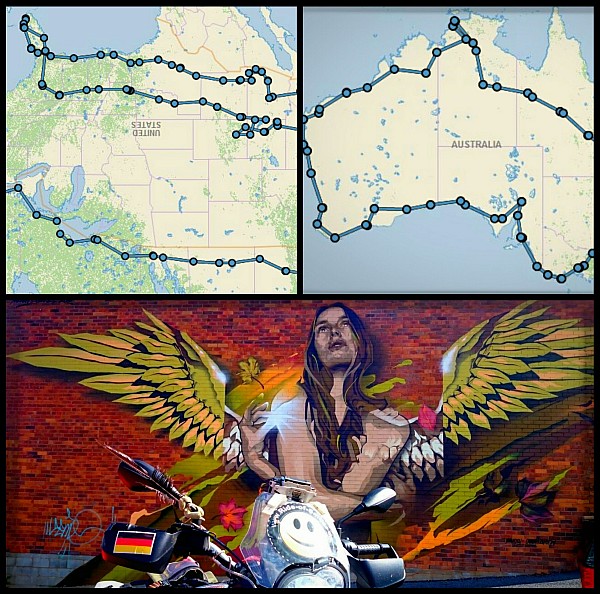 For technical limitation in Google Maps we cannot display and load the whole GPS-Tarck here, but have to limit it to the last week.
To see all progress please refer to this website and allow some loading time please
First Challenge for the Ride-of-Smiles right before it even starts / Was ein fröhliches Hallo aus dem Big Apple werden sollte, erlebt gerade seine erste Herausforderung
2015-05-01
And what a wonderful welcome my friends Jenny and Joe Rosenberg ever since celebrated for me , when Jenny picked me up at JFJK is beyond words and believe. Them being friends from Alaska to New York in 2008, this is what a wonderful friendship is about. Not necessarily seeing each other every day - but feel soulmates from their inner minds - and both their warm and generous hearts. As wonderful were sunny skies over New York with perfect spring conditions to start a little 50.000 mile charity fundraise on 1st of May. Maybe things went to smooth to be regular ...
Monday morning I get a phonecall from the responsible transportpeople about the R1200 GS Adventure  still not being shipped from Germany due to necessary controls through the American Environmental Protection Agency EPA - taking up to another 4 weeks at the worst. All paperwork from my side had been finished and so did the logistic staff- Everybody expected and predicted , anything would work out smoothly without any problems. Just there is the needed time for EPA procedures to have in mind when planning transports and shipping. So the EPA authorities do nothing wrong but checking the environmental conformity of the bike. Which is given, but has to be approved.  This is basically what delays us now, but won´t stop the Ride-of-Smiles after all.
Overcoming unexpected problems is part of the show. Latest signals wer quite positive for a hopefully short delay only. So from now we can only hope and cross fingers, that the involved EPA officers have a big heart for our common fundraising idea and maybe give us a bit of a faster access to America to start the Ride-of-Smiles.
The latest and so sad pictures of Nepal give cruel and reckless evidence, how many people on earth are desperate for help. That is what we work and ride for at the Ride-of-Smiles...
Das Erstellen von zwei Homepages,  Übersetzen aller Texte , setzen der richtigen Links, inhaltliche Befüllen der App, der Klinikjob selbst, der in seiner Qualität nicht leiden darf und die komplette Logistik um das Projekt selbst mit Integration der 4 Spendenpartner alles auf einen Punkt zum 1. Mai 2015 zu bringen- die Herausforderung.
Der Empfang durch meine Freunde Joe und Jenny Rosenberg war und ist einfach nur fantastisch, und von einer Wärme und Großherzigkeit, die diese beiden Menschen sehr einmalig macht. Eine Freundschaft die in der eisigen Weite der Gletscher in Alaska ihren Faden bis New York seit 2008 niemals verloren hat. Freunde für das  Leben - Seelenverwandte, denen man nicht täglich begegnet - dafür aber umso intensiver. Und wie Joe es formuliert : "If you had not been a biker then - you would not sit here with us" "Wärt Ihr damals nicht als Biker unterwegs gewesen, hätten wir uns wohl nie kennengelernt"
Fehlt nur noch die Adventure zum Glück und Start für den Ride-of-Smiles. Und obwohl bereits alle Umweltkonformitätserklärungen mit entsprechenden Bescheinigungen vorliegen, steckt das Bike im Genehmigungsprozess der amerikanischen Umweltbehörde EPA fest. Alles notwendige wurde früh- und rechtzeitig in die Wege geleitet, die Transportlogistiker im Hntergrund hatte jederzeit grünes Licht für alle Bereiche signalisiert. Und am Montag erreicht mich die Aussage des amerikanischen Spediteurs , dass der Vorgang bis zu 21 Arbeitstage auf Seiten der Behörde dauern kann. Die EPA macht hier nichts falsch , sondern einfach ihren Job nach der Reihe der Anträge . Alle freundlich gemeinten Versuche , das Verfahren zu beschleunigen, münden derzeit in den Aussagen der Transportprofis, dass hier nichts anderes als Warten und Daumendrücken angesagt ist. Die letzetn Signal waren aber durchaus positiv, dass die Verzögerung nicht allzu schlimm werden soll
So wie der ganze Ride-of-Smiles auf das Vertrauen in andere Menschen angelegt ist, werden wir auch hier gemeinsam irgendwie das Thema lösen. Ich habe jetzt erstmal die persönliche Logistik für potentielle 3-4 Wochen Wartezeit zu klären ( Wohnen / Essen/ schlafen/ Internet- / Telefon und Emailzugänge ) und herauszufinden, was das für die weitere Streckenplanung bedeutet. Ich werde versuchen die Zeit so sinnvoll wie möglich für die weitere Tourplanung zu nützen. Seid also bitte nicht böse, wenn sich hier der eine oder andere Startpunkt im Projekt zwangsweise verschiebt. Wann es genau weitergeht, hoffen wir, nächsten Montag herauszufinden
Der Ride-of-Smiles ist immer auch der Umgang mit den Herausforderungen der Reise selbst. Es bginnt mit einer solchen, aus der am Ende wieder eine Erfahrung gewachsen sein wird - Joels Lachen hilft auch jetzt. Und in Anbetracht dessen, was die Menschn in Nepal gerade erleiden müssen, sind solche Kleinigkeiten einfach kein Drama wert - für diese Menschen möchte der Ride-of-Smiles unterwegs sein und Hilfe bringen. 
Bleibt online , es wird bald losgehen :-) Daumen drücken bitte, daß die EPA ihr Herz für den Ride-of-Smiles noch rechtzeitig findet.
top
Submenu